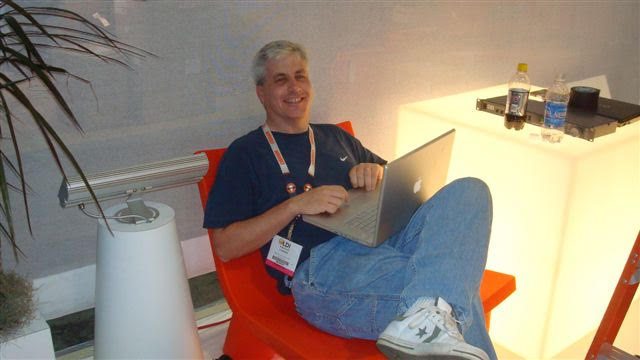 2020 has been quite an interesting year to say the least! We have often had to try to find joy in the little things, but being part of a company for 30 years is no small feat and definitely a reason to commemorate. This month we would like to congratulate our very own Chief Operating Officer Will Farmer on his 30th year anniversary at Creatacor! Starting as a Junior Exhibit Coordinator and working his way up to his current position as COO, we asked Will to sit down with us (six feet apart of course) and give us some insight about himself, his time at Creatacor, and how he got to where he is today.
Q: How did you find out about Creatacor?
A: After college, I was looking for a job in the Capital District to be closer to my girlfriend at the time. My girlfriend's sister-in-law found an ad for Creatacor in the newspaper and I applied. Having a communications degree and liking live productions, trade shows seemed like a good fit even though I wasn't exactly sure what I was getting into. It worked out well for me as I have been with Creatacor for 30 years, and have been married to my college sweetheart for 27 years.
Q: What was your starting position?
A: I was hired as a Junior Exhibit Coordinator which basically meant I was starting at the bottom doing research and errands for the account teams. Back then, I spent a lot of time sending and receiving faxes about shows all around the world. I don't miss the fax machine one bit!
Q: How did you make your way through the company to your position now?
A: About six months in the position, several employees left abruptly to form their own company. We went from a team of eleven to a team of six. One of those leaving dropped two show binders on my desk and told me I would be travelling to New Orleans next week and Anaheim the following week. Before I knew it, I was in the thick of it learning about onsite installs for small inline exhibits without much help. Fortunately I figured it out and the shows went well! When I came back, I learned I would be doing MinExpo in about 6 months. A 2,500 square foot booth with 8 GE Businesses involved. Thanks to the mentorship of Russ Percenti, one of the owners of Creatacor at the time, he coached me through the process, the show went very well – I was hooked on the industry. Shortly after, I helped land GE Information Services with a large show schedule and I served as the account executive for many years. In 1998 I took over the SYLVANIA account helping grow our offerings as we not only did shows but also helped update their showroom, renovate their travelling trailer and even built a news desk for corporate messaging. In the early 2000's was provided an opportunity to manage the client services team, leading to a VP spot and eventually a partner role. Tom Lemery was the sole owner at this point and he brought me, Gerry and Linda into ownership in 2010. Will always appreciate Tom giving us the opportunity as it led to us taking over in 2015.
Q: What did you want to be when you were a kid?
A: I went to college to become the next Brent Musburger as I wanted to host pregame shows for the major sports events. Took me less than a year of school to realize this just wasn't going to happen, but found a love for live events and being behind the scenes was just as enjoyable.
Q: What is the best piece of advice you could give someone coming into this industry (pre-covid)?
A: To survive in this industry, you must be adaptable and always ready for an unexpected situation. Even with impeccable planning challenges arise from travel delays, to last minute changes, to delayed shipments, to missing products or even missing parts of products to requests to reorientate the already almost completed exhibit overnight. You name it, it could happen. Don't view it as something going wrong but rather as an expected unknown challenge to solve. If you are good with last minute challenges, this is the industry for you.
Q: What's your favorite trade show city?
A: Hard to pick one but if I must, Las Vegas! It's built for trade shows with so many venues, a talented labor force, good weather and lots of after work activities. My favorite city, as I was fortunate enough to go several times, is Seattle. A clean city, beautiful views, right on the water, great restaurants and some of the friendliest people I ever experienced.
Q: What was your biggest learning experience at Creatacor? What were the takeaways?
A: The importance of teamwork. This is show business and you need everyone working together to make sure the event opens as scheduled and ends up being successful. Clients providing detailed information, account reps relaying the information, designers using the input creating temporary masterpieces, fabricators producing high quality exhibits, carriers getting your materials to the venue, and onsite labor teams busting their hump to get it built quickly are all required. For any successful live production, you need to include all team members in the planning process, getting their input and providing guidance or you will have serious problems to contend with.
Thank you for all you do at Creatacor Will. Cheers to 30 years!