Creatacor continued its creative partnership with LEGO® to produce the LEGO trade show exhibit for San Diego Comic-Con (SDCC), which opened on Wednesday, July 8, in San Diego. The LEGO exhibit is a fan favorite and is a great space for LEGO's Comic-Con presence. LEGO celebrated their 15th year at the world premier comic book and popular arts style convention. In addition to featuring a number of life-sized LEGO models, the booth also included the new 2016 LEGO building sets, giant brick pile tables and LEGO brick graffiti walls for fans to build their own art creations, a large video wall and a fully stocked LEGO store.
Here's a clip of the booth all coming together:
Models in the booth included a model of a LEGO® Star Wars™ 
Stormtrooper. LEGO Master Builders used 35,525 bricks over 325 hours to design and build this never-before-seen LEGO model. Collectors and fans also loved the LEGO Star Wars minifigure display case that includes every LEGO Star Wars minifigure made from 1998 to the first half of 2015.
A 2016 LEGO Super Heroes: DC Comics building set based on Batman v Superman: Dawn of Justice™ was also previewed and immortalized in a custom tryptic LEGO mosaic built from 82,944 LEGO bricks, featuring stars Henry Cavill as Superman™, Ben Affleck as Batman™ and Gal Gadot as Wonder Woman™, plus their LEGO minifigure likenesses, rotating above the booth.
An awesome 58″ x 136″ x 67″ LEGO diorama of Marvel's Hulkbuster™ and the Hulk™, as seen in the blockbuster hit Marvel's Avengers: Age of Ultron™, built from 100,643 LEGO bricks, was also on display.
To celebrate the June 29 Cartoon Network season premiere of Ninjago: Masters of Spinjitzu™, a life-sized LEGO model of iconic Ninjago apprentice, Lloyd, "rappelled" into the LEGO booth.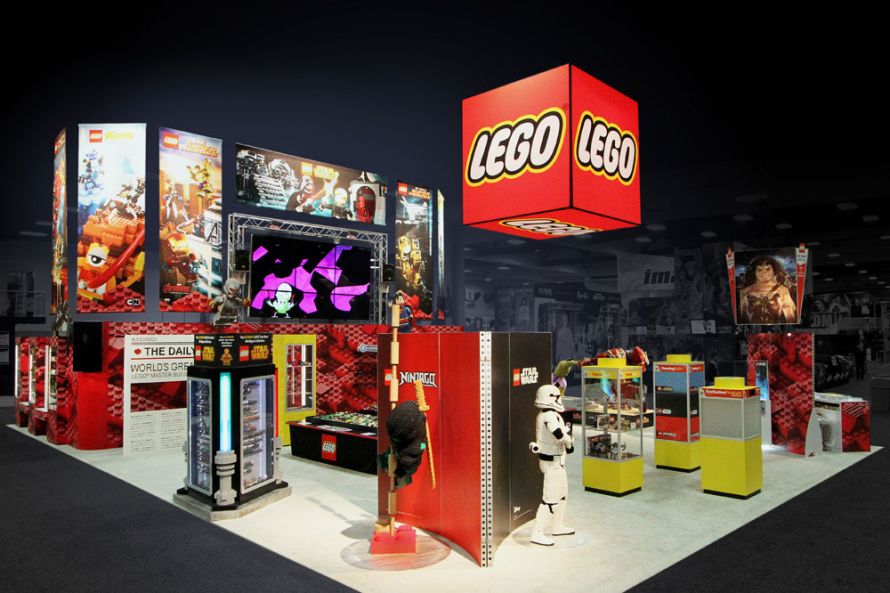 A life-sized LEGO model of Chris Pratt as Owen on his motorbike, based on the blockbuster film, Jurassic World, and constructed by LEGO Master Builders from 86,844 LEGO bricks, was featured in the booth with a graphic background from the film.
Fans also got up close and personal with four life-sized models based on raptors from the film – Blue, Delta, Charlie and Echo – constructed from more than 303,243 LEGO bricks, at the Nerdist's Conival takeover at Petco Park.
A very special thanks to the entire LEGO and Creatacor teams in producing another uber awesome LEGO Comic-Con booth.
You can view a full gallery of photos from the event in this LEGO Comic-Con 2015 Flickr album.